Posted on: June 4, 2022
Organ Dedication Concert Financial Report
2022 ORGAN DEDICATION CONCERTFINANCIAL REPORT
Income
Commemorative Booklet
Individual Sponsorships: $44,130.00
Business Ad Sponsorships: $4,850.00
Free-will Offering: $2,506.00
Beverage Tips: $75.19
Total Income: $51,741.19
Expenses
Concert Expenses (projector screen, booklet printing) $1,321.25
Hospitality Expenses: $658.12
Total Expenses: $1,979.37
Profit
Total Profit: $49,761.82
Much gratitude goes to those who supported our Organ Dedication Concert including our two major donors, 19 business ads, 32 online sponsors, and 47 individual sponsors.

No less is our appreciation to the three organists who gave of their time and talent to contribute to the success of the event. To Rob Abbott, Dr. Ron Prowse, and Joe Balistreri, God has gifted you with a very beautiful talent, and you have used it well. May God continue to bless you.
Again, we thank the committee who organized and planned the afternoon. Of course, to Patrick Lusch, we owe a debt of gratitude for his attention to detail, his expertise in technology, and his ongoing love of St. Matthew Parish.
To Joe Balistreri, who developed and coordinated the performance program and organists, as well as keeping in touch with the organ restorers to make sure that the "King" was ready on that day.

God bless all of you for all that you do for St. Matthew Parish.
Posted on: May 28, 2022
Congratulation Fr. Duane!
"I Am About My Father's Work"

June 3, 1979 to June 3, 2022

Congratulations! Father Duane as you celebrate your 43rd year of priestly ordination. Thank you for being our pastor, shepherding us and leading us to Christ through Liturgies and the Sacraments for 33 years!
Thank you for being a loving Father to your parishioners and to our Eastside community. May God bless you in mind, body, and spirit this day, this year, and for many more years to come!
Posted on: April 23, 2022
Stewardship Report July 2021 - March 2022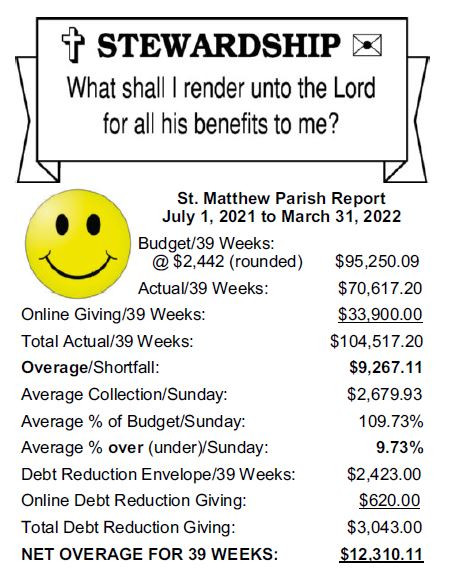 Posted on: April 2, 2022
Congratulations Liesellotte Auth!
Congratulations to Lieselotte Auth on her 100th Birthday!
Registered Parishioner Since 1945
Faithful to her Faith, her family, and her friends, having a life well-lived, we wish you, Lieselotte, all the best of God's blessings as you continue on your life's journey!
Posted on: February 19, 2022
Rest in Peace - Ernest Alix
Ernie (Ernest) Alex
Husband of Laura
Father to Jean, Emily, Jacques, and Michael

Ernie was an active member of St. Matthew Parish and
a member of St. Matthew Choir for over 20 years.
His family and friends will miss his presence.
May the Lord bless you, Ernie, and may He welcome you
home to His heavenly banquet.
Posted on: January 8, 2022
CSA Report 2021-22
2021-2022 Report
Catholic Services Appeal

This report is from May 1, 2021 through January 4, 2022. Payments and pledges for 2021- 2022 Campaign are accepted through May 31, 2022.

CSA AoD Goal: $17,822.00
Total Pledged: $51,799.18
Total Paid: $47,399.18
Pledge Balance: $4,400.00
Refund Anticipated: $33,977.18
Refund Issued: $24,397.18
Current Refund Due: $5,180.00
Average Pledge: $569.22
Pledges Made: 91
Pledges Fully Paid: 73
Pledges Outstanding: 18
Parish Families: 201
Posted on: January 8, 2022
Stewardship Report July 2021-Dec 2021
St. Matthew Parish Report
July 1, 2021 to December 31, 2021

Budget/26 Weeks:
@ $2,442 (rounded)
$63,500.06
Actual/26 Weeks:
$45,531.53
Online Giving/26 Weeks:
$22,275.00
Total Actual/13 Weeks:
$67,806.53
Overage/Shortfall to Date:
$4,306.47
Average Collection/Sunday:
$2,607.94
Average % of Budget/Sunday:
106.78%
Average % over (under)/Sunday:
6.78%
Debt Reduction Envelope/26 Weeks:
$1,460.00
Online Debt Reduction Giving:
$500.00
Total Debt Reduction Giving:
$1,960.00
Net Overage for 2021/2022 2nd Quarter:
$6,266.47
Posted on: December 18, 2021
2021 Goldn Harvest Winners
2021 Gold'n Harvest
50/50 Raffle
Announcing the Winners
The Gold'n Harvest 50/50 Raffle Drawing was held last Sunday, December 12th. We did our best to capture pre-pandemic times for the event. Besides the small gathering of parishioners, the Big Raffle Drawing was live-streamed in the auditorium thanks to the expertise of Gerianne LaPratt.
We had to forego our catered parish breakfast and the consolation (sur)prizes again, but there were plenty of donuts and coffee to go around to those who attended.
This was an extraordinary year with respect to the process and results of the raffle. We needed to scramble on the weekend of the drawing due to the lack of tickets to sell. Folks were generous in their response to Father's request to his parish friends as well as our parishioners. It ended well thanks to last minute calls made by Theresa Zuerblis and Father Duane to those who had not yet turned in their tickets, sold or unsold.
After all the returns were reconciled, the total raffle earnings amounted to $35,140, truly our best year. The amount of $17,570 will go to the parish, and the balance of $17,570 was awarded to the following winners in accordance with the rules of the State of Michigan Charitable Gaming Commission. We congratulate these lucky winners!

1st Prize: $10,542 to Lisa Porter, one of our Online Givers
and former student of St. Matthew School

2nd Prize: $4,919.60 to Rob Funk, a parishioner of St.
Matthew's

3rd Prize: $2,108.40 to Len Henk, a friend of Father
Duane's and a support of St. Matthew Parish

Sellers' Drawing Winner: $200 to Father Duane Novelly

Thanks also to Co-chair, Bill Zuerblis, for his loyal support to this effort. Patricia Camazzola manned the ticket table after Saturday Masses. Jennifer Khalifah not only provided the breakfast goodies for the drawing event but also collected returns on Sundays after Mass. Thank you to
Patricia and Toni Scully for their assistance in allocating tickets for the requests from Father's friends.
Of course, we cannot forget those of you who bought or sold the 50/50 Gold'n Harvest Raffle tickets. Your efforts in this challenging time made this fundraiser a success beyond our expectations!
Co-Chairs, Bill Zuerblis and Marilyn Lynn
Posted on: October 10, 2021
2021-22 CSA Report
2021-2022 Report
Catholic Services Appeal

This report is from May 1, 2021 through October 6, 2021. Payments and pledges for 2021- 2022 Campaign are accepted through May 31, 2022.

CSA AoD Goal: $17,822.00
Total Pledged: $46,259.18
Total Paid: $39,189.18
Pledge Balance: $7,070.00
Refund Anticipated: $28,437.18
Refund Issued: $6,527.18
Current Refund Due: $14,840.00
Average Pledge: $571.10
Pledges Made: 81
Pledges Fully Paid: 62
Pledges Outstanding: 19
Parish Families: 201
Mass Schedule
| | |
| --- | --- |
| Wed | 9:00am |
| Thu | No Mass |
| Fri | 9:00am |
| Sat | 4:30pm |
| Sun | 10:00am |
| Mon | No Mass |
| Tue | 9:00am |
All Services