Posted on: May 21, 2022
Organ Concert Thank You!
What a marvelous day we had last Sunday at our Organ Dedication Concert! We estimate there were about 225 in attendance, mostly faces we hadn't seen before. So the word through our publicity obviously went out. The performance by our three organists was superb. And the addition of the loft camera which allowed the hand and foot work to be seen on the screen in front of the altar made for a most interesting concert. The music program was framed in a liturgical setting; with congregational singing, a Scripture reading, a reflection, and, of course, the solemn blessing of the instrument.
Our Hospitality Committee did a wonderful job, and the auditorium looked great with a keyboard theme of black and white. It was just a wonderful day; as our announcement indicated, it was a unique experience. If it was missed, you truly missed a one-of-a-kind event.
A special thanks to the Committee, the volunteers who helped on the day, and to Patrick Lusch who guided us through the publishing of the commemorative booklet and the technology. Most especially to all who supported us through sponsorships, business ads, and donations.
I give thanks to God for all who made this day and the fundraiser possible.

God bless all of you,
Father Duane
Thank You's!
The Organ Dedication Concert It was AWESOME! St. Matthew's beautiful church was truly filled with "the sound of music." We are so grateful to our organists, Rob Abbott, Ron Prowse, and Joe Balistreri, who with their God-given talents brought to life the music of classical and contemporary composers. All the more exciting was the placement of a projector screen at the front of the church which allowed a camera to show the hand and foot movements of the musicians as they played their selections. What a wonderful experience, one never to be repeated.
The reading, reflection, and, of course, the blessing of the "King of Instruments" brought a liturgical feel to the event. We were truly blessed that day!
The after-glow provided an opportunity for our guests to enjoy a beverage and a treat. The organists were available for a Meet and Greet. It was truly a moment of fellowship!
We thank all those who gave of their time that day and to the planning. Most especially to Patrick Lusch, who from his remote location, provided support and coordination producing the commemorative booklet and to
Joe Balistreri, who organized the musicians and refined the program.

The greeters included Lena Coen, Mary Anne Pilette, Sharon Mielke, Beverly Goll, Emily Petrylka, Joe and Mary Zainea, and Laurie Striebel. The ushers included Dennis Costello, Dan McBride, Bill Ridella, and Jerry Mielke. The ushers/greeters included Jerry Mielke, Michele and Ed Assad. Our parking lot assistants were Marty O'Neill, Parker O'Neill, David Gross, Andrew Petrylka, Alex Petrylka, and Dennis Hermann as overseer.
The clean-up crew included Mary Adams, Lynn Gross, Emily Petrylka, Andrew Petrylka, Alex Petrylka, Beverly Goll, Bob Lavoy, and Dennis Hermann.
A special thank you goes to Jennifer Khalifah who took charge of the treats; the cupcakes, the cheeses, crackers, fruits, dip, and coffee; to her helper, Kelly Bruno; and to the wine bar crew, Kathy Lozon and her fellow Saturday Mass choir members. Another thank you to the Planning Committee who made every meeting and also set up the decorations in the auditorium, Gerianne LaPratt and Donna Bolz.
And, as always, we owe a debt of gratitude to Father Duane, our biggest cheerleader and who keeps everyone on track.
God bless all who helped, who gave, who came, and
who prayed for our success!
Posted on: May 14, 2022
Organ Concert & Move to Family of Parishes
Posted on: May 7, 2022
CSA 2022 and Opportunity Scholarships
First let me wish all the Moms of St. Matthew's a very happy Mother's Day. As we remember and acknowledge them, we honor all they do and have done for their children.
As Mary, the Mother of Jesus, is their model, we let them know they are appreciated for all their sacrifices to raise, nourish, and form their children. May God bless them all! On this day, Holy Mother Church in Detroit, begins its Catholic Services Appeal (CSA). This year we return to
distributing the cards and other materials at the back of church. I ask you to please read my letter in the packet for a full explanation of the campaign this year. However, I will state again as in the letter, we will use the CSA to help raise much needed funds toward our overall budget. Again, this year, we are "Doubling Down" on our target of $18,500 and have set an internal goal of $36,000. This will help us balance our financial picture at the end of the fiscal year.
Please read all the materials in the packet and do what you can, even sacrificially to help in our effort.
On another matter of importance beyond our parish, we are conducting a petition signature campaign this weekend to put forth state legislation that would enable public, private, and home schooled children to take advantage of OPPORTUNITY SCHOLARSHIPS for low-income families
to access funding for children's educational needs; tutoring, text books, learning materials, special needs, and to assist in tuition for Catholic or private schools.
Along with this first petition, a second petition establishes a dollar for dollar STATE INCOME TAX CREDIT for individuals and businesses who make a donation to scholarship granting organizations that distribute funds for opportunity scholarships. This petition drive will allow the legislature to consider this effort as it was vetoed last year by the governor.
You must sign both petitions for validity as there are two parts to this legislation. Our timeline is short. We only have this weekend to respond as the petitions are due to Let My Kids Learn (the organization that is sponsoring the petition) on Wednesday, May 11, 2022. Please consider signing the petitions.
Remember next weekend is our Organ Dedication Concert. Please make every effort to attend. It will be beautiful, and we need you!
God bless all of you, Father Duane
Posted on: April 9, 2022
Easter 2022 and Lieselotte Auth
As we begin to celebrate the Lord's passion, death, and resurrection this Holy Week, I want to invite and encourage your full participation in the
Sacred Triduum; the three days of Holy Thursday, Good Friday, and Easter Vigil/Easter Sunday.
These days for us take the Pascal Mystery, the suffering, death, and resurrection of our Lord, what we celebrate every Sunday at Mass and spread it out over three days. It is so important for us as Catholic Christians to participate in these days. I know schedules have to be adjusted, time set aside, but this is the core of our faith and our religion.
These days should feel different because they are. To enter deeply into the death/resurrection is to spend time out of time and to allow the liturgies to wash over you and deepen your belief in Christ Jesus. It is a way to encounter the risen Lord truly at a mystical level when approached with a proper attitude.
So, I encourage you to attend all three days to experience the fullness of the Pascal Mystery. Indeed it is time well spent.
Another thought I have been reflecting on this week is the beautiful blessing we were able to share with one of our parishioners, Lieselotte Auth, who celebrated her 100th birthday this past Monday. As is my custom, I gift anyone turning 100 years old in the parish a dozen roses and a birthday blessing. Lieselotte who was in attendance on Sunday looked absolutely wonderful, and God has certainly blessed her with good health, and I'm sure she will be with us for awhile.
It reminded me that in my 33 years here at St. Matthew's Lieselotte was the fifth centenarian I was able to give roses to. Unfortunately, I do not remember the name of the first woman to receive them, but I do remember giving them to her. Then there was Mr. Jim Bingham, a longtime parishioner and usher; Anne Laige, mother-in-law of our maintenance man, Ed Comiskey; Margaret Repp, grandmother to our parishioner, Linda Holster, who I anointed before she passed; and, of course, this past week, Lieselotte Auth, a parishioner; making a total of five.
God has certainly been good to these people, blessing them with long life. But, the length of our years is not as important as the way we fill those years, and what we do with the time God gives us. So take courage and inspiration from these centenarians and fill your years with the grace and goodness of God.
Posted on: April 2, 2022
Constitutional Amendment Ballot
It seems we may be at a critical point in our nation's legal history and in the long struggle for the respect for life and the protection of unborn children. It is suspected that the Supreme Court will take up the issue of the constitutionality of Roe v Wade, the 1973 decision that allowed for abortion throughout our country. There is the probability that Roe will be overturned. However, this does not mean an end to the issue. In fact, it will bring the issue of abortion closer to home. That is to say, that the decision for or against abortion will lie with individual states.
The state of Michigan has on its books since 1846 a ban on abortion. If Roe is overturned, the state already has its law in place; but it is being challenged by the ACLU, Planned Parenthood, and Michigan Voices. Their goal is to enact a change in the Michigan constitution. In effect, making abortion legal and calling for a "fundamental right" in our state constitution to "explicitly affirm" unrestricted abortion on demand throughout all nine months of pregnancy.
This coalition is called "reproductive freedom for all," and they are, since March 19, 2022, circulating a petition to put the constitutional amendment on the November ballot. They have until July 11, 2022 to complete their task of obtaining 425,059 signatures to succeed.
At the behest of the Church, our Archbishop (see inserted letter), and people of goodwill, we ask you NOT TO SIGN the petition. If approached, please be aware of what you are asked to sign. It would be best if the proposed constitutional change would not be put to a referendum and appear on the November ballot.
If it does, we could have Michigan as a pro-abortion state set in concrete. We can have a positive force for life and truly make a difference in these changing times. All life comes from God, only He can decide who lives and who does not.
More information to follow in the future.
Posted on: March 24, 2022
Farewell Rick Cucchi
I announced last week that Rick Cucchi, our Sunday Music Director and organist, was leaving us. He was here for five years and 10 months. I must say, I was saddened by his departure because I really liked his style of leading community liturgical singing, and I liked his voice. I certainly tried to talk Rick into staying; but due to distance of travel and commitments, he thought he could no longer be here. I'm sure we will miss him as the overwhelming applause of appreciation indicated last Sunday.
I immediately got to work; and because we were so close to Lent and Easter, I went into a panic thinking how would I find someone. But God was good to us (an answer to my prayer), I have been able to fill the position at least temporarily through to Easter and through the summer.
I am happy to introduce to you this week, Dr. Ron Prowse and his wife, Cathy, who will take on the music ministry through Lent, the Triduum, and Easter Sunday. Dr. Prowse and I are not strangers to each other. I worked with Ron at St. Joan of Arc when I was an associate pastor. He was marvelous to work with. Obviously, in the ensuing years he married Cathy; and I've had the good fortune to work with her for funerals and weddings throughout the diocese. She is certainly a talent in her own right. Dr. Prowse also was the organist at Sacred Heart Seminary and taught on their faculty and still is an adjunct professor at Sacred Heart.
I was so pleased that they accepted the position albeit temporarily. It will make for a beautiful and prayerful Lent and Easter. Also, this week, I was able to secure the talents of one Rob Abbott who was formerly the organist at Shrine of the Little Flower Basilica. Although I don't personally know Rob, I have spoken to him on the phone, and he has accepted the position from the Sunday after Easter through the beginning of August. He comes highly recommended, and I'm looking forward to working with him.
He will also be playing an earlier Mass at St. Daniel's in Clarkston. So he will have a bit of a journey coming down here to St. Matthew. He will be coming in only 15 to 20 minutes before Mass starts. But I indicated to him that would be just fine especially during the summer, since we, ourselves, have the two minute miracle every Sunday. (I'm worried about attendance at quarter to the hour, and then miraculously everyone appears as we begin!!).
So, I ask you please pray for our new musicians, sing loudly, it will make them feel good. Have a great Lent!
God bless all of you,
Father Duane
Posted on: February 12, 2022
Update on Families of Parishes
Last week, the Scripture reading seemed to me a perfect springboard for
talking about "Families of Parishes." Jesus getting into Simon's boat and
pulling away from the shore so that the dynamics of sound, his speaking, would carry over the water and be amplified so that the crowds could hear his teaching. Jesus used any means necessary to proclaim the Kingdom of God. As reflected in the homily, the church today must do what it can to continue to proclaim the Gospel in the midst of a dire priest shortage. The Archbishop has decided that the structure of "Family of Parishes" (FOP) will be the model by which we can best minister
to our parishes.
Certainly FOP is driven by the shortage of priests, but the deeper issue is why are we in this crises. As reflected last Sunday, part of the problem is a lack of people attending church. "Millennials" have the highest percent (75%) of "nones," those acknowledging no religious affiliation. They seem to claim spirituality but not religiosity. Yet without a religious institution giving foundational teaching, moral direction, and community worship, one's spirituality may be nothing more than a self-reflection which does not serve us well and will take us into spiritual poverty.
Fallen away Catholics are also a group that needs to be called back. The richness of our tradition and faith is certainly a gift that should not be thrown away. A good place to start to evangelize is to not only invite but encourage those who are away to return.
Having said this, I draw your attention to the article I'm putting in The Pulse from the Detroit News / Detroit Free Press printed last weekend indicating that the problem is widespread. Please read it on the inside page.
Also, too, I think it is time for people to come back to church. Many are staying away due to pandemic concerns. However, I think we still have enough room for people to be safe. Masks are recommended, and I think with proper distancing our community is safe. My fear is that as people stay away, they may grow accustomed to not attending, and this will be detrimental to the church and to them.
We will continue to develop FOP in our new Serf Vicariate as we move toward implementation on July 1, 2022. God be with us! God help us! Afterall, this is the Church of Jesus Christ not ours.
Peace and God bless all of you,
Father Duane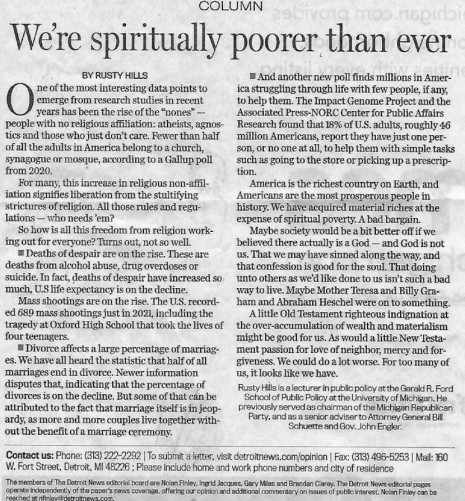 Posted on: August 30, 2021
Update on Status of School Building Sale
REPORT TO THE PARISH
UPDATE ON CATHOLIC CHARITIES "HEALTHY HOUSING" PROJECT FOR REPURPOSING OF SCHOOL AND ACTIVITIES BUILDING
At the weekend Masses of February 6 and 7, Father Novelly announced that a decision had been made, in coordination with the Archdiocese of Detroit and with the advice and consent of the Parish and Finance Councils, to support an acquisition/rehabilitation proposal by Catholic Charities of Southeast Michigan (CCSEM) for repurposing the parish school and activity buildings into "Healthy Housing" affordable apartments. This vision for providing a new use for these long standing vacant buildings is part of a national program by Catholic Charities USA for expanding affordable housing in Detroit and four other cities (St. Louis, Las Vegas, Spokane, Portland). CCSEM is joined in the Detroit effort by Ascension Health, the parent organization of St. John Hospital.
This past weekend, I reported at both weekend Masses that this effort has now moved from vision to action steps. CCSEM has prepared a comprehensive development plan and begun the process for obtaining the necessary public and private finances to implement the plan. A timeline of 24-36 months is estimated for completion of the entire development process. Requests for the first stage of funding are now underway. CCSEM and Ascension Health have also affirmed their ongoing commitment to this repurposing plan and have developed a community engagement process for keeping the parish and neighborhood informed on the plan's progress. At St. Matthew Parish, we remain a positive, prayerful, and patient partner in this exciting action plan for the acquisition and repurposing of our school and activity buildings.
The CCSEM/Ascension - St. Matthew "Healthy Housing" Project impacts the parish and the community in a variety of ways: (1) It improves the physical appearance of the parish campus and the neighborhood by transitioning currently unoccupied buildings into an attractive, long term community resource; (2) It provides for affordable housing that is greatly needed and is part of a larger initiative to assure that housing needs for Detroiters are met; (3) It offers an array of essential, on-site health services in a convenient and accessible neighborhood setting; and (4) It assures the ongoing and long established commitment of St. Matthew Parish and the principal partners in the project as a continuing legacy of their respective missions to the people in this northeast Detroit community. Further reports to the parish will be provided periodically as this exciting plan unfolds.
Respectfully submitted,
David Smydra
St. Matthew Parish Representative
Posted on: July 10, 2021
Financial Status Update
God certainly has been good to us through the support that so many and so generously have given to St. Matthew's. Please take note of the "smiley face" report. It is a full fiscal year end report of the Sunday envelope contributions which include the debt (deficit) reduction envelope. You can see that we surpassed our budgeted figure for envelope income. I am so pleased, and I want to say thank you!
Now, what does that exactly mean for our overall budget? Well, as good as it is, we still do not have a balanced budget, but through additional donations and withdrawals from our savings, we are able to pay all our bills and make necessary and planned maintenance expenses. In short, we did not have to withdraw as much from our savings account. In fact, we only had to take $35,000 from our account to make operational expenses, the lowest in over 10 years. That means with the extra CSA money we generated the last two years and from special donations we received from generous contributors, we were also able to take care of the maintenance projects we scheduled last year and can address those we are scheduling for this year. (In the fall, I'll make a complete listing of what we have accomplished through the ongoing decisions of the Parish and Finance Councils.)
Regarding our current CSA, we have 46 parishioners who have pledged giving us a total of $17,520. We are still shy of our goal by $302. I am a little disappointed. In the past two to three years, we have exceeded our goal and were able to offset our expenditures as I indicated above.
This year, we set a theme of $1 for the AoD and a $1 for St. Matthew's, thus internally doubling our target. In fact, this was a much lower target than the last three years. Those that pledged did a great job, but many have not yet responded to this year's CSA. In fact, 157 parishioners have not responded to either the AoD or St. Matthew's appeals. If you have not made a pledge, I hope you reconsider. I know this administration of the CSA is different this year coming from the AoD, but I do make an appeal to please respond with what you have done in the past when it was administered at the parish level. If you are having trouble responding, we will help you locally. Just call the parish for help or materials in order to respond.
On the matter of the flood damage, the insurance company and the contractors have reviewed everything, and the claim is being filed. The church auditorium needs a good and heavy cleaning and disinfecting.
But, the rectory may require more extensive work. Carpeting will need to be replaced in two basement conference rooms, and the tile is popping up off the floor and will need to be removed. Unfortunately, the tile is asbestos, and abatement will be required. I am afraid that the auditorium and rectory basements will not be able to be used for some time. We are just coming out of the pandemic, and now this issue occurred.
Well, that's life! Please say a prayer for our community of St. Matthew.
God bless all of you,
Father Duane
Mass Schedule
| | |
| --- | --- |
| Wed | 9:00am |
| Thu | No Mass |
| Fri | 9:00am |
| Sat | 4:30pm |
| Sun | 10:00am |
| Mon | No Mass |
| Tue | 9:00am |
All Services